Look how old this is!

I post at
SearchCommander.com
now, and this post was published
12 years 2 months 5 days
ago. This industry changes FAST, so blindly following the advice here *may not* be a good idea! If you're at all unsure, feel free to hit me up on
Twitter
and ask.
I received a marketing e-mail that was cleverly worded, and since I'm interested in local marketing, I clicked the link. When I got there though, the message I received wasn't exactly a perfect sales pitch.
The e-mail I got told me that my business name was listed incorrectly on the major search engines, and I could get a complete online visibility report by following the link.
It sounded interesting, so I followed the link, and this is what I saw –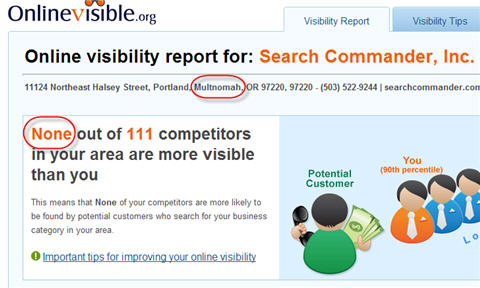 If I'm better off than all 111 of my competitors, how can they help me?
And what's "Multnomah" Oregon?  (Actually, Multnomah is my local marketing county, but even if their email software doesn't know that, their website for mining local leads should, don't you think?)
Here's what the email said…
My name is [snip Name] and I'm researching the online visibility of Multnomah small businesses.

I came across Search Commander, Inc. (11124 Halsey St) on Google, Yahoo and yellow pages sites and noticed that the business is listed differently on these sites. I invite you to check if the business details are up-to-date and take a look at your complete online visibility report.

I hope this information will be useful to you and would appreciate any feedback you may have. If this is not your business or if you would not like to receive these reports, please click the unsubscribe link at the bottom of this email.

Sincerely,

[snip name]
Business Analyst
[snip Email]
I'm not writing this to slam 'em, I think it's an interesting campaign, a good looking site, and they DO have a point – Listings should match identically from site to site, (something I learned from David Mihm) and my own local marketing is something I confess to being less than diligent about, at Search Commander, Inc.