Look how old this is!

I post at
SearchCommander.com
now, and this post was published
8 years 10 months 28 days
ago. This industry changes FAST, so blindly following the advice here *may not* be a good idea! If you're at all unsure, feel free to hit me up on
Twitter
and ask.
Update – Google Disabled the functionality of the their software on  August 1, 2014 – DAMMIT – Now what?*
If you try to run your life using Microsoft Outlook and an Android phone, you know how hard / difficult / impossible that can be since December of 2012.
In the olden days, Google let us sync our Outlook calendars with our free Google Calendars, and it worked just great. I was using primarily Outlook 2007 but I know it still works with Outlook 2010 also.
Then, last summer, Google decided they'll eventually be needing more money,  and they announced the end of life on their old sync tool.
They warned that downloads would be eventually be unavailable, and nearly a year ago, December 12th, they took down the file.  ;(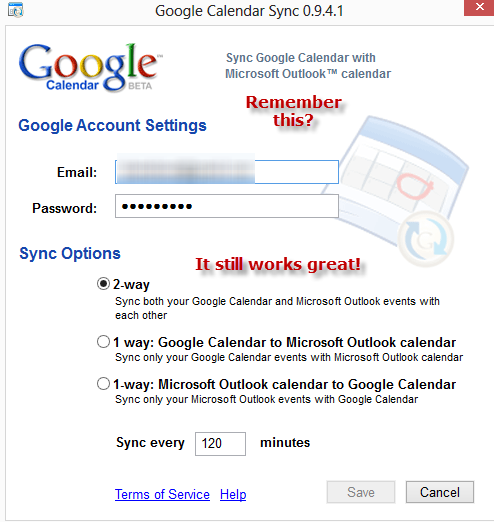 A couple of weeks ago I made the jump to a new computer (Intel I-7 multicore  / 2tb SATA III HD / 32g RAM / Windows 8).
As an Outlook user since 1995, I reinstalled my Microsoft Outlook 2007, imported my .pst file and I was back in business, or so I thought.
I didn't even realize it at first, absent-mindedly dragging an email about a conference call to my calendar, only to be out of the office at the designated time, and with no reminder or phone number, I was screwed. Ugh.
I started looking online and came across this page, where Google says:
Starting Jan. 30, 2013, only Google Apps for Business, Government, and Education customers can set up new devices with Google Sync.
Sure enough, their old page clarifies further:
Starting January 30, 2013, users, other than paid Google Apps users, won't be able to set up new devices using Google Sync.
Wait a minute…
Suppose I WANT to keep using Outlook? Suppose I DON'T want to turn my mail domain over to Google Apps? It's not that I mind paying for service, but I prefer to pay my web host for email?
Google is telling me I can't use their phone / calendar anymore unless I either change my mail service or give up Outlook?
And as a further slap in the face, they HAVE something that will work that's been free for years, but now they're not going to give it to me anymore? Seriously? I NEED items added to my phone appear in my Outlook, and vice-versa!
Support and download are [Not Provided]
Although Google did discontinue making it available for download, and any support from them is completely non existent, I've got it.
Here is the .exe download of Google Sync 0.9.4.1 – It's tiny and its safe, but if you prefer, here it is zipped.
*Google Disabled the functionality of the their software on  August 1, 2014 – This product works great, and is free for one calendar