Look how old this is!

I post at
SearchCommander.com
now, and this post was published
14 years 11 months 27 days
ago. This industry changes FAST, so blindly following the advice here *may not* be a good idea! If you're at all unsure, feel free to hit me up on
Twitter
and ask.
After what many are calling the best SES session, Matt Cutts was caught on camera physically expressing his feelings about the way he was treated, as he attempted to strangle Graywolf!
During his portion of the session, Michael Gray attacked Google pretty viciously, but did so in a methodical and logical way that was nearly impossible to disagree with.
I'd never seen Matt actually squirm before, and being in the front row, I could swear I saw sweat on his brow. I actually did feel bad for him, but he really was placed in an indefensable positition.
I think the height of utter hypocracy was best demonstrated when Todd Malicoat showed a screenshot of a Google search for "buy text links", and everyone in the audiience could see that Google was profiting from the very activity they publicly condemn.
Next to pile on were Todd Friesen and then Greg Boser, who both laid out their cases very matter of factly, and again, barely a sylable could be debated.
The only hope of salvation came from Andy Baio, who is the founder of Upcoming & Waxy but his point was basically that people SHOULD be nice and not to cheat. Well, yeah, that's true, but teachers should get paid more than basketball players, and thats just not the way the world works, is it?
The writeups on this session were incredible, and you can read all the gory details as captured impeccably by Tamar Weinberg of Search Engine Round Table, Rand Fishkin from SEOmoz and Lisa Barone from Bruce Clay. Dana Larsen at Top Rank Blog also has some insight worth reading, with a funny analogy.
I predict that this session may actually lead to the death of (visible) PageRank in the Google toolbar, but there's not much they can do about the algorithm's dependancy on inbound links, or the publics desire to trade green paper for green pixels.
The attack? – Well, Matt and Michael were just joking around…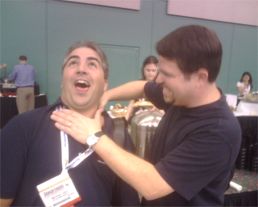 The picture was shot by Mark Knowles, from Smart Solutions, a Bend Oregon web development company, and I'd better make it clear that no money changed hands in exchange for the picture, or for any of these links 😉