Look how old this is!

I post at
SearchCommander.com
now, and this post was published
8 years 5 months 28 days
ago. This industry changes FAST, so blindly following the advice here *may not* be a good idea! If you're at all unsure, feel free to hit me up on
Twitter
and ask.
I've frequently been asked if I can point to a good example of Twitter marketing, and it's rare, but I saw one first hand this weekend.
Sunday afternoon, I happened to notice that Gary Vaynerchuck twittered that he would offer free shipping for the entire year of 2010, if the New York Jets were to beat the Indianapolis Colts!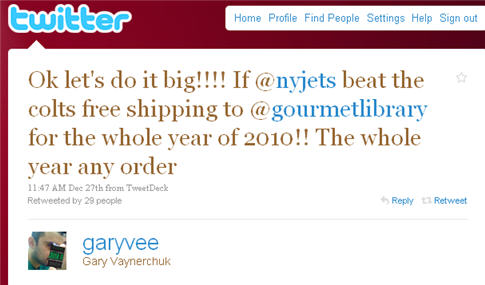 Fat chance of that happening, I figured, but I still thought it was a cool gamble, so I retweeted what Gary said.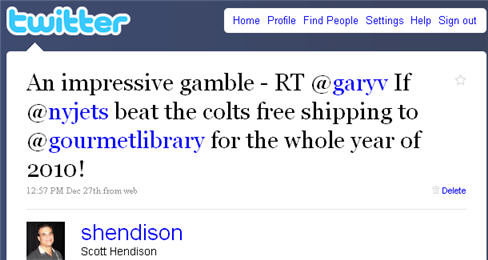 Then, in the second half of the football game, the Colts laid down for the Jets by removing their starters,  and the Jets did actually beat the Colts by a score of 29 to 15.  Was this some sort of payoff by a competitor of Gourmet Library? 😉
Anyway, I sort of forgot about it, until just now as I was looking at the Twitter stream, and I happened to see this: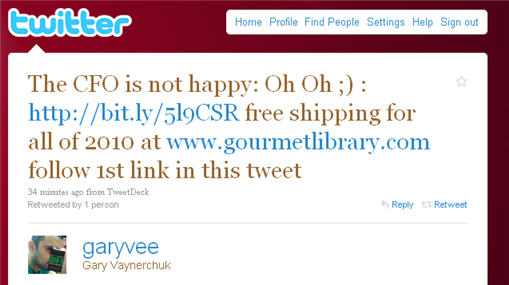 So following the link in that Tweet,  I came to this –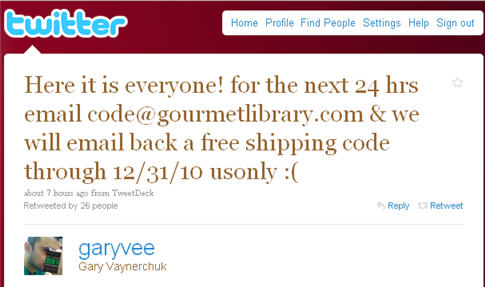 So, I just got done sending an email off,  requesting my free shipping code for the entire year, and i'm going to go browse the catalog…
It will  be interesting to hear how many free shipping codes get given away, as well as to know (a year from now) how much in free shipping was given away, how many dollars, and how many new customers were brought in by this single Tweet.