Look how old this is!

I post at
SearchCommander.com
now, and this post was published
4 years 1 month 24 days
ago. This industry changes FAST, so blindly following the advice here *may not* be a good idea! If you're at all unsure, feel free to hit me up on
Twitter
and ask.
I learned a lot about Kickstarter over the past two weeks, and I thought this might interest some of you, plus, I need your help too.
With Kickstarter crowd funding, people don't actually "invest" in a project,  instead they "pledge" an amount, in exchange for something tangible, related to the project being funded.
The "rewards" for pledging can be anything from a post card or dvd , to anything else that the project owners want to offer as a reward.
This is the 20th year anniversary of a movie called "Free Willy". The "star" of the movie was a killer whale that came to live here at our Oregon Coast Aquarium named Keiko
To celebrate Keiko's life, a web hosting client of mine has a film about Keiko coming out this year, and her goal is to hold an evening premier at The Egyptian Theatre ion Hollywood Ca.
In an attempt to raise the $15,000 necessary, she launched a Kickstarter campaign last week, and she's off to a great start, with over $1700 in pledges by 32 people already!
Their Clock is Ticking
Kickstarter gives the project just 30 days, and an "all or nothing" philosophy, and at the end of the time, either it gets funded and the money is released, or all pledges are returned to the backers.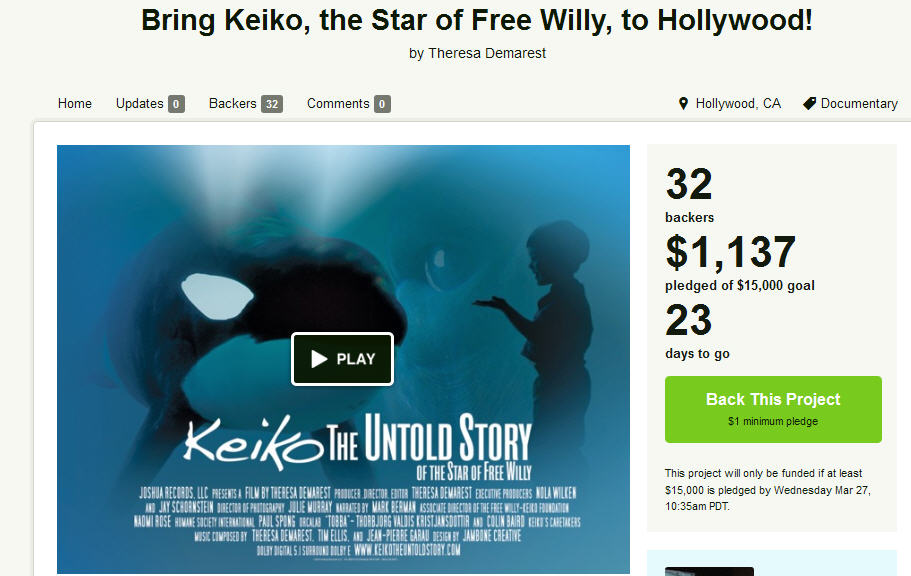 Kickstarter Offers a "Kickstart" to get it going.
Kickstart  will feature their project if they meet an initial goal. so, with over 30,000 fans at their Facebook page Theresa has now launched a Facebook event, tomorrow morning at 7am PST.
The goal is to get 100 individual donations in 24 hours, starting at 7am Tuesday March 5th. If theyhit that number, then Kickstarter will feature them as a "hot and upcoming" project, and their own version of the "Digg effect" can kick in.
I'm asking you, my marketing friends, to please pass  along my post here, and maybe even kick in three bucks?

PS – If you are ever going to launch a  Kickstarter campaign, you should read this first.