Look how old this is!

I post at
SearchCommander.com
now, and this post was published
5 years 5 months 21 days
ago. This industry changes FAST, so blindly following the advice here *may not* be a good idea! If you're at all unsure, feel free to hit me up on
Twitter
and ask.
Okay, I'm calling BS here, Google – What's going on?!? Can someone explain to me how a post I wrote three days ago is still not found by searching it's exact title?
Any time I've ever looked, my posts are indexed, often within just minutes, and NEVER do I recall a post I've made not getting indexed at all by Google.
An exact search of the URL shows it's not there…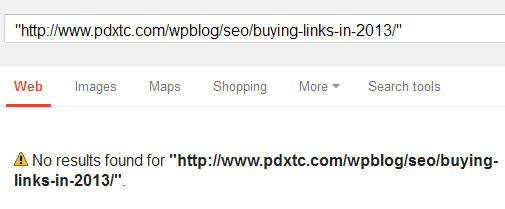 That's not some lame bragging point, and most sites have that happen (aside from garbage domains), but it illustrates the absurdity of my situation.
The post in question that's mysteriously not indexed, is *not* blocked by my robots.txt, it's not blocked in my .htaccess, there isn't a noindex or nofollow directive, there's no canonical tag giving credit elsewhere.
The URL in question has all of the usual on page SEO factors like unique title and description tags, it's completely unique content, the URL is on both my static sitemap and my XML sitemap, and there's little question that it's been crawled.
The reason I say it's getting crawled, is because an RSS feed of the post on my home page is getting picked up just fine.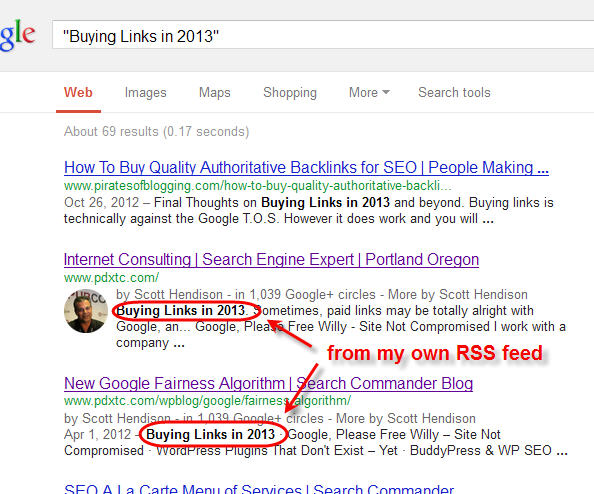 Not to mention that the page shows up just fine in Bing.

Could it be that Google just doesn't like what I have to say?
Maybe I'm paranoid or I have some overly important view of myself, but it sure seems to me that this post is being censored.
I cant think of any other explanation… The content of the post is even being crawled on my blog home page, so what else could it be aside from a manual removal because someone doesn't like what I had to say?
As I write this, I'm pretty confident that THIS post will be indexed soon, and that should dispel any notion that there's something technically wrong with my site or or my page.*
I challenge anyone to find single a non-indexed post on my blog ever! (although I suppose that could change quick, if I don't shut up huh? 😉
Anyway, here's the post that Google seems to not want- called "Buying Links in 2013"
*update 12/7/12 – Nope, I was wrong. This post isn't indexed wither, nor is the one I wrote the next day about Amazon scam are not indexed.  Nothing I've written since last Friday's "Buying Links in 2013" has been indexed, even though the site is being crawled.

I wrote this post as a joke, and I can't POSSIBLY be getting singled out by Google for what I've said, and something MUST be wrong technically, although I can't imagine what, since the posts ARE being indexed fine at Bing. Any suggestions?