Look how old this is!

I post at
SearchCommander.com
now, and this post was published
4 years 6 months 1 day
ago. This insustry changes FAST, so blindly following the advice here *may not* be a good idea! If you're at all unsure, feel free to hit me up on
Twitter
and ask.
I work with a company that produced a documentary about Keiko the whale, who was the star of the 1993 sensation, Free Willy. (Wow, has it really been 19 years?)
Over a week ago, we found out that their website got hacked, and although it was NOT reported in Webmaster Tools, the search results did show viewers that they "may be compromised", warning away potential visitors.
They WERE compromised
We examined the site, and sure enough, their theme had the Tim Thumb vulnerability. Rather than clean it ourselves, I wanted the entire hosting account scanned, so we used our Sucuri protection service account  have it  fixed and thoroughly cleaned within an hour
After the repair
I tried to follow Google's instructions to report that the site was cleaned, and this is what it says…
However, that was impossible
The reason it's impossible, is because SINCE there has been no reported malware inside of Webmaster Tools, we are not offered the option – There IS no "Request a Review".
How did I notify them?
At that point, I assumed that I we could get it quickly crawled again, so I used the Fetch as Google" tool for their index page and all of the pages they are linked to.
After Nearly Two Weeks
That was nearly two weeks ago, but today, the result still remains, (and there have still been no messages in Webmaster tools) and the client phoned me, justifiably upset.
First we've appeared incompetent by not knowing it was hacked in the first place (since there was no WMT message) and now, a week later, it's still not fixed!
My only option (aside from this blog post) was to submit a reinclusion request, so I did this morning.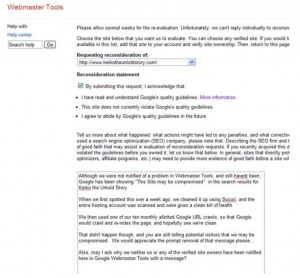 I know this still won't work
This has happened before, and only time seems to heal these things. I already KNOW what Google's irrelevant answer will be… something like this –
So what's the problem, Google?
I think Google has a LEGAL RESPONSIBILITY here to notify site owners that their sites have been flagged. How can it be legal to WARN people away from our websites, and not even give site owner us notice, much less the opportunity to clean it up.
Stuff like this and Google's failure to notify has been going on for years but there's nobody holding them accountable.
What do you think?
If you agree, please Tweet this, Like it on Facebook, discuss it on Google+ and let whomever you can, know that this is unacceptable and that I hope that  a class action lawsuit develops…