Look how old this is!

I post at
SearchCommander.com
now, and this post was published
8 years 11 months 26 days
ago. This insustry changes FAST, so blindly following the advice here *may not* be a good idea! If you're at all unsure, feel free to hit me up on
Twitter
and ask.
I just noticed a change in Google's listings, and I hope it's permanent. Google local is now showing 10 single line listings above the regular organic listings, instead of 3 multi-line listings, and they're showing all 10 just taking up the same space.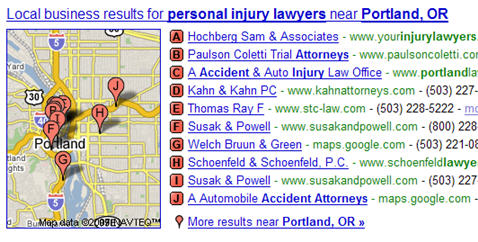 Not only that, but now there are also 10 organic listings too, (instead of just 7) below the locals, so this doubles the total amount of unpaid listings on page 1, assuming you're searching for a local business, or, if you're marketing for one.
Nice 😉