Look how old this is!

I post at
SearchCommander.com
now, and this post was published
8 years 1 month 5 days
ago. This insustry changes FAST, so blindly following the advice here *may not* be a good idea! If you're at all unsure, feel free to hit me up on
Twitter
and ask.
This year I spent only a bit more than a half day at CES and I stayed only in the Sands Expo Hall, unlike previous shows CES 2006, and CES 2007.
Last year for 2008 I was able to write three posts nearly all from the Expo Hall, but it was nearly a third smaller than it was last year, and there was far less variety. We were able to make it through the entire hall, seeing every single booth in just 4 1/2 hours.
I'm sure that the economy played a major role in many vendors making a decision not to show up, and it was a bit disappointing after seeing how large it had grown last year.
At any rate, here's of all the cool stuff I saw (in no particular order) and a few others that for some reason caught my eye. I don't claim to be a gadget reviewer, a photographer or even a CES expert, so if my facts are wrong about anything, please correct me nicely!
Bug Labs
A 21st Century Erector Set. BUG is a collection of easy-to-use electronic modules that snap together to build any gadget you can imagine, like a camera, keyboard, a video output, etc.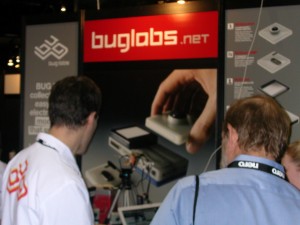 Plug an external hard drive into the Pogo Plug, then hook the Pogo Plug to your home or office network router. Once you do that, all of your files are safely and securely accessible from your I-phone, your PC, or any Internet connected device imaginable.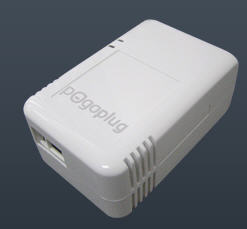 Acoustibuds
Jeez, about frikkin time. These things are cool, and should soon be available at a store near you, for making those horrible headphones that come with nearly every device much more usable and comfortable.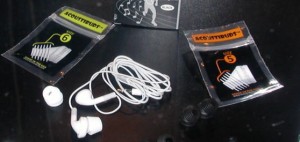 This in car computer system does ALMOST everything. I need one of these in my car, but it would be even better with a display on the windshield so we could use Twitter while driving 😉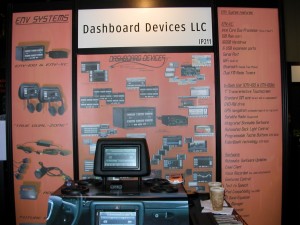 Mind Control by Mattel – Mindflex
Ok, I kid you not, I saw this in action first hand, and was floored. My friend Al Carlton, the gadgetmaster is the one in this video.  I didn't get to try it myself, because it looked like those that were in line were going to be a while,  and we wanted to move on. Now however, I wish I had.
Talking to Al, he's told me that you're really controlling the fan, and moving it left and right is done with a knob.  In the still photo, you can see how it attaches to your ear lobes with clips, where it reads your biorhythms…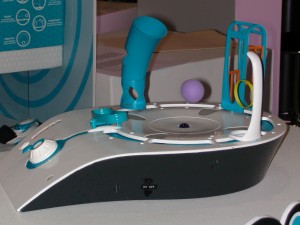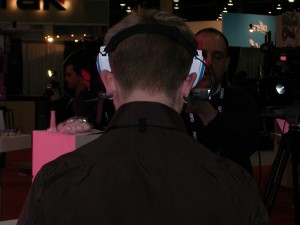 What is this?
What's happening here? Is it Mattel's Hydrogen Bomb Kit? I wish I could remember, and have no notes to go with the picture, but Brad understood, and said to get a picture, so maybe someone can comment if they know wtf it was.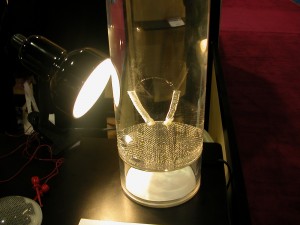 Spyball Camera by WowWee
You steer it via a remote, it as it rolls around, then stops on a dime, and then you can control, broadcast, and presumably blackmail someone with it's videos.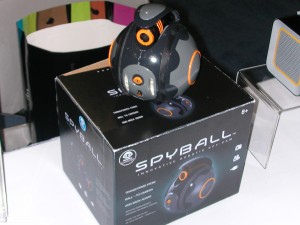 Micro PC
Not really new, just smaller, cheaper and way cooler. I could fit this in my winter coat pocket! 😉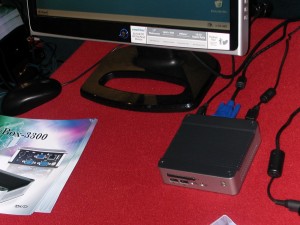 CyWee
Better than Wii, 'cause it works with PC games. It's a dongle the size of a USB thumb drive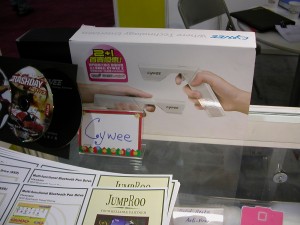 Portable Power Bank
This is a universal adaptor with a gearless wind generator and a solar panel. Hook it to yourself while you run skate or bike, and charge & use anything you have on you.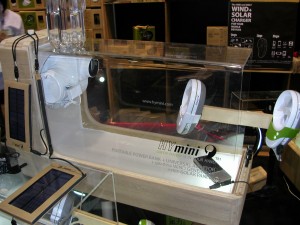 Unichal
This is a USB Dictionary for printed material. When you click the device, it opens to the relevant Wiki-pedia page, dictionary page and google search. Personally, I'm not sure there's actually a market for it, bot it was neat.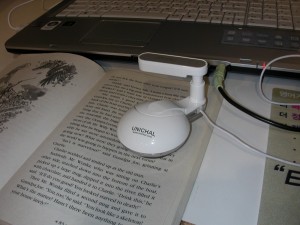 This innovative little video camera broadcasts and operates wirelessly, has a clever and simple positioning system, is said t obe easy to install, and looks to be seriously cool.
I'm thinking about applying to be a beta tester, and you can too until Jan 19 – but if they pick you instead of me, I'll be mad.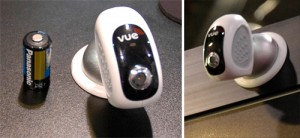 Nice writeup here where i took the photo from…
USB Missle Launcher –
The first year it just launched foam missles. Last year, they added a model that had a camera lens and a viewing window you coul use on your PC to target trajectory. This year, it can be controlled remotely over the web, so on days that you call in sick, you can still taunt your fellow employees by shooting missles into their coffee.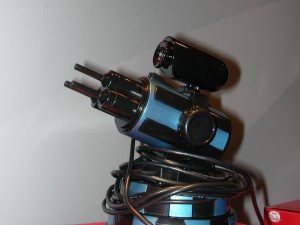 USB Hand Held Microscope with integrated software – $400
Sorry, but I didn't make a note of the company. I was so enamored with looking at the back of a penny and details of a circuit board that I totally forgot!
PC Microscopes are nothing new, but the palm sized version of this one, along with portability and ease of use, AND the on-screen software that displays actual measurements as you click and drag with your mouse made it a hit in my scorebook.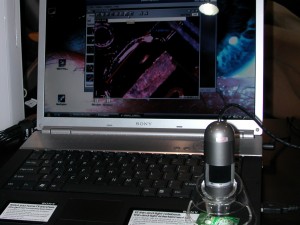 3d Rendering Glasses by Vuzix
Okay, this requires an explanation. They are virtual 3-D rendering glasses that allow you to interact with a 3d compouterized item simply by looking at a spot on a piece of cardboard that's lying on the desk.
Just point the glasses at the spot on the cardboard, and a 3d rendering appears in your field of vision, looking as if it's sitting on the desk. I tried them, and the view changed pretty smoothly as I moved my head.
What you see in the picture below as a log cabin is what I saw in my glasses, but when I removed my glasses, all that was there was a piece of cardboard.
Remember the holographic chess game from Star Wars? well, it looks like it's coming soon, and I think they're trying to get a sponsorship from Dramamine… 😉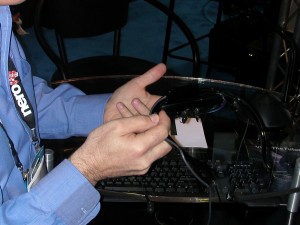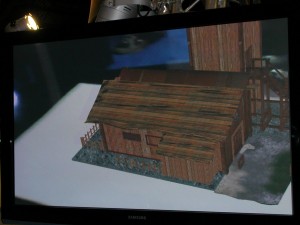 Aqua Power
Ok you skeptics… Two years ago, I reported that someone was claiming to be able to generate electricity out of plain tap water, or melted snow, or even, in a pinch, soda or beer from a can or bottle.
I can't tell you how many people I've told this who didn't believe me, and I've been forever pulling out the flyer I keep at home when we have guests that bring up the subject of any alternative energy research.
That science-fiction story is now a reality with Aqua Power, and I've seen it for myself.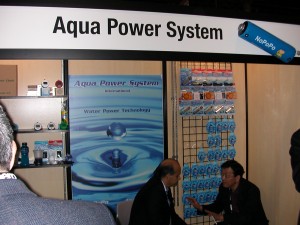 Other notables…
Stuffed animal Characters that danced pretty well to the beat of your Ipod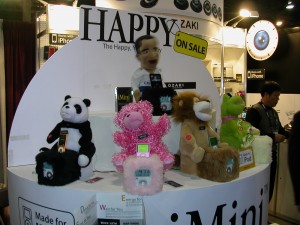 Dishwasher Safe Computer peripherals –
Note the reflection over the keyboard? That's not glass, it's water, and I was able to type with my hand submerged…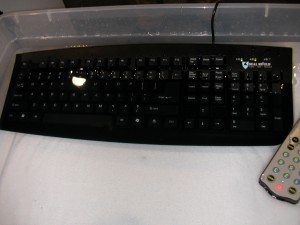 Alphabetical Keyboard –
What makes this keyboard so special? Just the fact that there's a hot key pre-programmed to allow you to change the order of the keys from QWERTY, to alphabetical. That's right, all the keys can be ordered ABC – DEF – GHI – JKLMNOP, QRSTUV, and WXY & Z. isn't that a great thing to teach your kids?