Look how old this is!

I post at
SearchCommander.com
now, and this post was published
9 years 3 months 17 days
ago. This industry changes FAST, so blindly following the advice here *may not* be a good idea! If you're at all unsure, feel free to hit me up on
Twitter
and ask.
My trip to the Consumer Electronics Show this year was shortened to just one day, so from the time the doors opened until I left for the airport, I roamed up and down the aisles and squeezing through the hordes trying to find the "next big thing".
CES is made up of several shows all crammed together at the Las Vegas convention Center (home, auto, audio, video, etc) with a separate show held at the Sands Expo / Venetian called "Inovations Plus", which used to be called "Emerging Technologies". Because my time was limited, and because that was really my area of interest, I spent the whole day there.

As cool as it is to see the spectacle of the big show with a million-dollar booths and the 150 inch big-screen TVs, there really wasn't much to offer me compared to the cutting edge stuff at the Innovations Plus show.
For those who haven't read my CES roundup from 2007 or 2006, my criteria was about the same this year as it has been in the past. I was looking for things that were truly unique, or that offered the possibility of creating a new market, or that would tap into an existing market which was still relatively non competitive.
Because I was in such a hurry, I didn't take time to stop and chat with many vendors, but I got to see an awful lot of cool stuff.
Unlike years past, instead of putting everything all in one post, I'm going to have to post a few a day, because I just can't devote the time right now. Here are the first few…
NX6000 Bluetooth headset
Something I saw last year that never quite got developed right was a headset with a secondary microphone on the outside facing away from your body that picked up, then blocked out ambient noise.
They claimed you could mow your lawn while talking on the Bluetooth headset and the person you're talking to would hear none of your background noise. Because of the "in the ear" design, you would be able to hear equally as well. I searched monthly for the NX6000 to become available, only to give up mid summer.
It turns out that the company sold their Bluetooth headset division to a new company who was here at the show, called Cellpoint Connect. There are plans for resurrecting the NS6000, and while I've yet to see (hear) it work, it's coming soon.
Website
Tributary Technologies – Camera to Web
This was still in the conceptual stage, but company owners Jean and John Matvey have a great idea which could be as little as three months away from working if they obtain the funding they are seeking.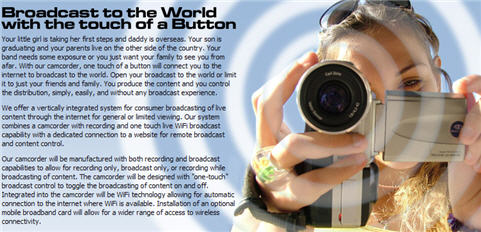 The problem with today's camcorders is that the user has to be somewhat of a geek to connect up to the PC and then upload their video to the Internet. With the new cameras from tributary technologies, users will be able to take movies and upload wirelessly directly to a web server. If you think the existence of You Tube changed everything, wait until you see what this might do!
Website
Humanity Online – Virtual You
In the vein of a virtual Web assistant, sort of like Site Pal, but not a cartoon, this company has developed technology that will make it affordable for the small business to have chat interaction via the web, or prerecorded messages, both using a computer-generated talking head that looked far beyond what you see in today's video games.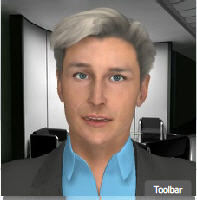 Lip movement was replicated very well, and facial expressions of the person speaking were done nearly perfectly, as the demo showed a video of the person on the left, and the speaking computer-generated avatar on the right. It was sort of creepy, but still incredibly cool.
Website