Look how old this is!

I post at
SearchCommander.com
now, and this post was published
13 years 5 months 25 days
ago. This industry changes FAST, so blindly following the advice here *may not* be a good idea! If you're at all unsure, feel free to hit me up on
Twitter
and ask.
One of the clients I work with has a web developer that implemented Microsoft Live Analytics last year, and Firefox users are seeing an SSL error when they visit their site.
I've been remiss in even reporting this because I keep assuming they're going to fix it, but nobody seems to have noticed, and it's been two months now.
I have not yet used their Microsoft Analytics, because frankly, there's already enough discrepancy between their two versions of Live Stats, (.asp .net) and their Google Analytics.
Regardless, did their Web developer miss an e-mail telling him he had to change the code, or is there something really wrong with the security certificate?
Here's a copy of the message –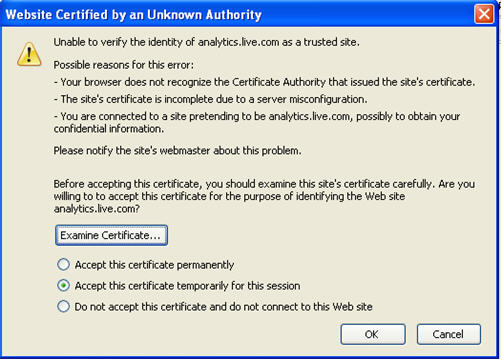 If you hit "Examine Certificate" you get this –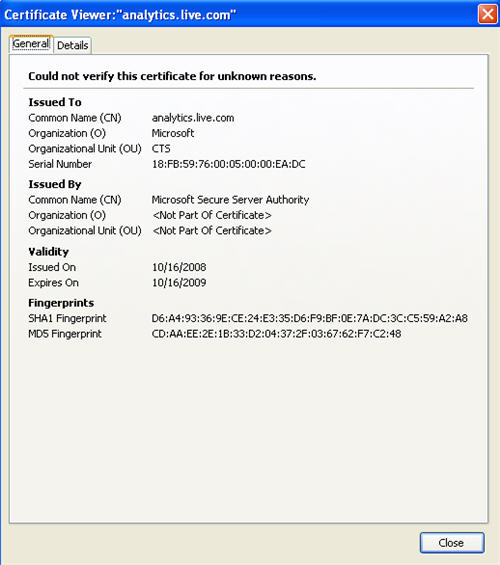 And if you look at the "Details" tab, you see this: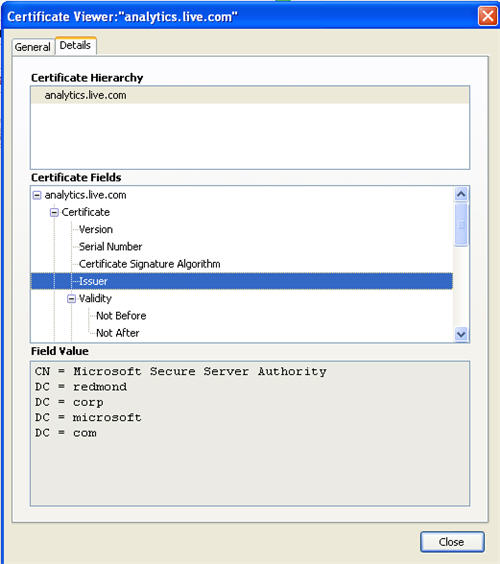 Dear Microsoft, any ideas?
Anyone know much about Live Analytics? Does it offer additional insights that can't be found elsewhere? For example, will it tell show me the bounce rate by browser type?
Google Analytics does…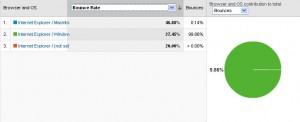 I can't share this particular domain name here – Does anyone know of another website they could check this on that's running Microsoft Analytics? I don't.