Were you up before 6 a.m. today? If so, and if you had gone to Google's homepage, you would've been greeted by an interesting site.
The home page of Google was appearing like a negative photograph image, with everything that us usually in white, appearing in black, and all of the text was in white.
Since I'm recovering from a bunch of computer problems this week, I assumed momentarily that I was having a video card issue. However a closer look revealed the true reason for the color change.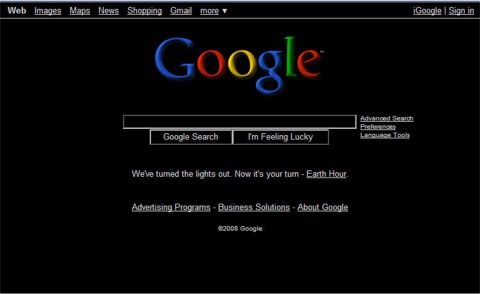 Google did this to draw attention to Earth Hour, and they linked to another page too, explaining what it is, and how you can help. Comically, they felt it necessary to explain that it doesn't really save energy to use darker colors – LOL
As to why we don't do this permanently – it saves no energy; modern displays use the same amount of power regardless of what they display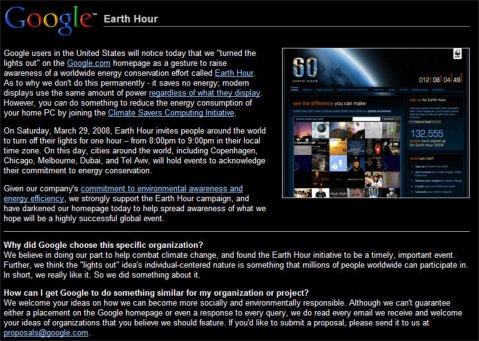 Assuming the page stays up, you can read the Google Earth Hour explanation here -
*** update 4pm***
Well, I just talked to a friend that noticed Goolge was black… he said all day!  Ijust  looked, and sure enough, it's black right now. Huh – Well, In case you missed it, I'll leave the screen shot and post here anyway

One comment on "
Google Goes Dark – Temporarily

"
Leave a Reply