Qwest Internet service here in Portland Oregon has apparently begun to randomly block port 25 for its customers, just like Comcast did last year. This renders users helpless to send email using their own domain from their web host's email server like most businesses do.
Also just like Comcast, they are not doing it to all users yet, and they have provided no notice to users for whom they have done this. It's only due to spending several hours on the phone last summer that I can offer this solution.
If this has happened to you, simply open your mail client, go to the advanced properties of the mail account, and change your outgoing mail server (SMTP) from Port 25, to port 587, then save configuration, and restart your Outlook or Outlook express.
Port 587 is another port that many web hosts provide for exactly this situation. While I can attest to its success on the majority of hosted mail servers (including our web hosting servers in Portland), it may not work for everyone.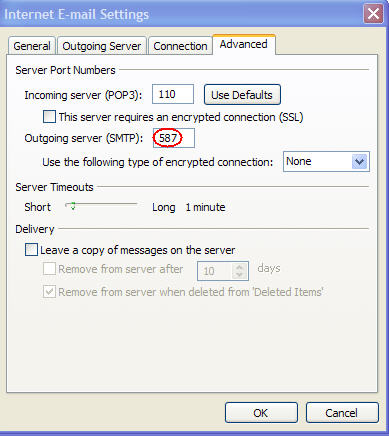 In the event changing to port 587 does not solve your problem, rather than calling Qwest, call your web host, and explain that "you suspect that your ISP has blocked port 25 for outgoing mail. What other port do they recommend you try?"
At that point, they will either open another port, or tell you the existing passport to use for their Web hosting.
The reasons Qwest (and Comcast) have done this to people with no notice escape me, but there ya go!
23 comments on "
Qwest Blocking Email on Port 25

"
Leave a Reply